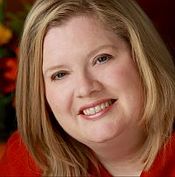 Deliciously fun contemporary romance!
Julia Harper
Pseudonym: Elizabeth Hoyt.

Julia Harper is a Midwestern girl, born and bred. She grew up in St. Paul, Minnesota, then went to college at the University of Wisconsin at Madison, where she majored in anthropology and took Shakespeare classes for fun. She spent one brief, ghastly summer doing archaeological survey in northern Wisconsin for the State Historical Society. During that time she won the Tick Queen title for most ticks on a person at any one time (36). Oddly, she did not contract Lyme disease.
Julia now makes her home in the tropically warm regions of central Illinois, where the snow never gets above one's knees and the cars hardly ever have to be jump-started in winter. She loves to hear from her readers
Books:
For The Love Of Pete, January 2009
Hot, January 2008